Glen Devon nabs $8000
Courtesy of Catherine Miller, The Stock Journal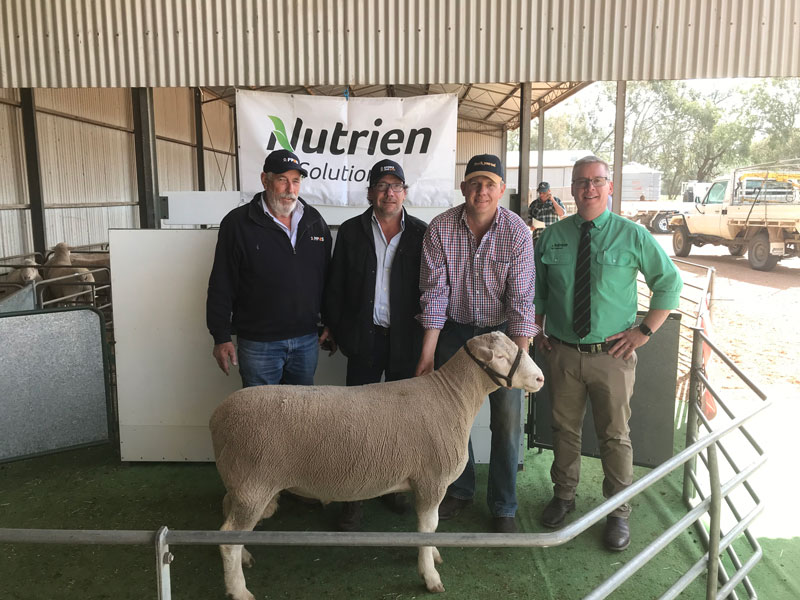 PPHS director, Robin Steen and client Haydn Lines, Keith, Lachlan Hart, Glen Devon stud, with the $8000 ram and Nutrien stud stock's Gordon Wood.
LONG-TIME, loyal clients ensured Glen Devon Poll Dorset stud had one of its best ever on-property ram sales, with a full clearance and $82 lift in average at Two Wells on Monday.
Bids fired from lot 1, Glen Devon 190155, which set a new $8000 stud record for Robert, Helen, Lachlan and Mileah Hart.
This strong competition continued right to the final lot, with the 100 long and growthy rams averaging $1496.
The April 2019-drop sale-topper had above average Lambplan figures, with a post-weaning weight of 15.5, fat of -0.9 and eye muscle depth of 1.5. But Haydn Lines, Keith, selected the Leenala 15007 son primarily for its "exceptional structure and clean points".
Mr Lines, who has bought a few rams at Glen Devon since establishing the Benealla stud in 2016, said it was the evenness of the Hart family's offering that kept him coming back.
"The consistency of type (at Glen Devon) from lot 1 to lot 100 is the best I have seen anywhere," he said.
"It is what you need for breeding commercial rams for our own use and the ones we sell to commercial clients.
'We are getting the length (in our rams) buying there too."
Two other rams- both sired by Glen Devon 182/17 - were knocked down to studs with the McInnes family, Achnaneilan stud, Naracoorte, securing lot 5 for $4000 and Michael Cook, Bsarma stud, Minlaton, bought lot 7 for $2500.
This ram had a Terminal Carcase Production index of 137.3.
Spirited bidding from volume buyers contributed strongly to the sale's success.
Vic Mallee agent BR&C Agencies, Ouyen, put together 22 rams for several clients to $2100 for a $1245 average.
Long-time clients S&R DiGiorgio & Sons, Lucindale, also left their mark on the sale with 20 rams averaging $1485, paying to a $2100 high.
New clients PSB & Sons, Blyth, bought 12 rams to $1500, averaging $1300, and Mt Beevor, Nairne, took home eight rams to $1900, averaging $1625.
Eleven rams sold via AuctionsPlus, with nine of these heading to K&A Grazing, Crookwell, NSW, who bid to $1400 and averaged $1278.
Glen Devon stud co-principal Lachlan Hart was very pleased with the result and continued good feedback from their loyal clients on the prime lamb progeny of their rams.
"To sell them all and have a better average than last year is fantastic, you always aim to have a better result than the year before," he said.
"The rams were pretty even all the way through and I think the prices reflected that."
Nutrien Livestock stud stock manager and auctioneer Gordon Wood praised the quality of the offering at Glen Devon's annual ram sale.
He said the Hart family, which have been breeding Poll Dorsets for more than 60 years, were renowned for big-framed, long-bodied rams, but these traits were even more evident in this year's draft.
"They also had natural softness, which is very important in the prime lamb industry," he said.
"We need lambs that still do when the season gets tough."
Mr Wood said buyers appreciated the quality and were quick to step in, with all 100 lots selling for $1000 or more.
"There were a few starts at $800 online but they really quickly jumped up to $1200 and above - buyers knew their budgets and they weren't that low," he said.
"In the latter half of the catalogue there were rams making up to $1600, which showed the consistency right through."
Nutrien and Elders were joint selling agents with Nutrien Clare conducting the sale.